C & C Aviation, Inc. welcomes you!
Have You Seen Mt. St. Helens by Air?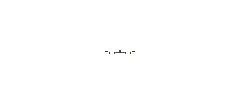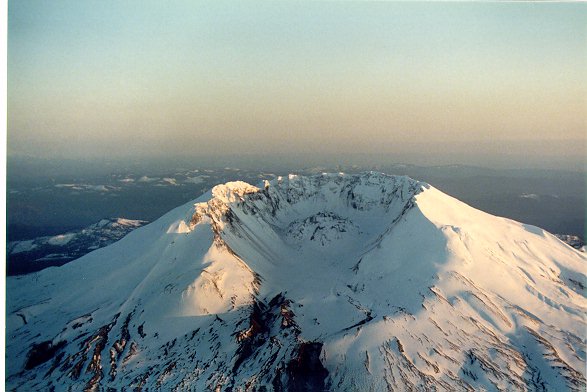 - Photo by Bob Martinsen, taken Feb. 9, 1990, from a Cessna 172RG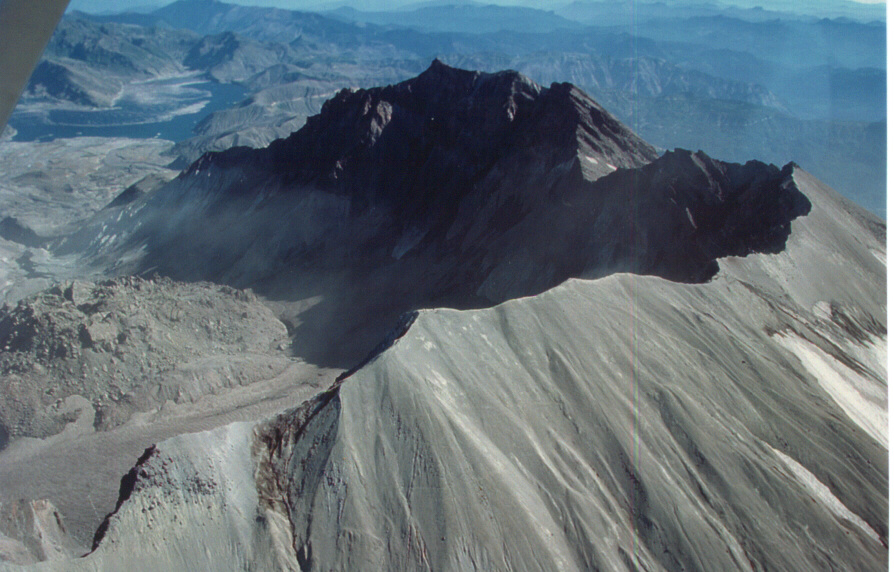 - Photo by Martin Steiger, taken Aug. 14, 1998, from our Cessna 172
---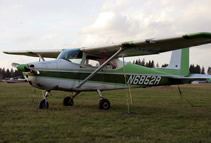 | | |
| --- | --- |
| | Telephone: 503-760-6969 |
| | FAX: 503-762-2244 |
| | E-mail: chad@ccavn.com |
| | |
| | 14430 SE Center Street |
| | Portland, OR 97236-2547 |
---
Fly into the active volcano with C & C Aviation and view the effects of the 50-megaton blast, at 8:32 a.m. May 18, 1980, that changed the elevation from 9,677 to 8,363 feet (1,314 foot reduction in elevation) and removed 2.6 cubic kilometers from the mountain.
Hot gas and ash rose more than 12 miles into the air in less than 10 minutes, and over the next nine hours, another 450 megatons of force was expended.
Fly around the lava dome, now 1,100-1,200 feet above the floor of the crater. Between October1980 and October 1986, it grew so fast that geologists estimated that if it continued to grow at that rate, it would replace the original mountain within 150-250 years.
The avalanche of material from the mountain cascading down into Spirit Lake caused water to splash up the sides 400-800 feet, raising the bottom of the lake by 295 feet and the water level by about 200 feet. It also climbed Johnston Ridge - about 600-1,000 feet.
More than one million "old growth" trees that had surrounded the mountain and Spirit Lake are now a floating "log mat" in Spirit Lake. Harmony Falls used to cascade 200 feet into Spirit Lake, but is no more.
The blast devastated an area of 240-250 square miles, killing enough trees to build 640,000 three-bedroom homes.
See the "mini Grand Canyon" -- over 300 feet deep -- which geologists say "...looks as though it was formed over a period of about 2,000 years", but what we see today has only been a little more than 18 years, and most of that occurred in the first hours after the eruption.
Hummocks of earth 100 feet high can be seen as far as 13 miles from the crater, deposited there during the eruption. Six miles away, the blast was so powerful that it removed not only trees, but topsoil as well, leaving exposed bedrock where "old growth" trees once stood.
Fly by Castle Lake and Coldwater Lake, which were formed by the flooding that followed the eruption, then along the North Fork Toutle River valley, where 200 houses floated away.
This one hour fifteen minute flight costs only $95 per person, two-person minimum, and three persons (at a time) maximum in a Cessna 172 airplane. Questions?
---
---
Other interesting places to visit on the Web:
International Wheelchair Aviators - Information about handicapped flying

---
Visitor number


since Nov. 27, 1995
The Directorate of Time, U.S Naval Observatory is the
official source of time used in the United States.

Thanks for stopping by.
Last updated 04/29/09